CgmBet System is free to use but your registration is needed for administrative purposes in order to assure your personal and secure access to the database server. The program may be used without registration but you will have no access to the latest results and to the software updates.
You will be prompted to register first time you try to update the database using "Update" button.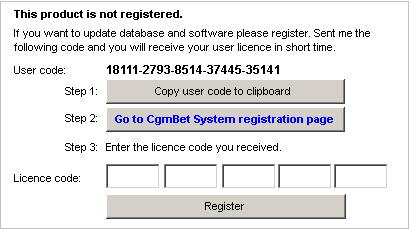 Just follow the instructions, send me your user code and you will receive your own activation code. Please note that the activation code is unique for each computer, operating system and hardware. So if you change something on your computer, the registration code is no longer valid. Just apply again for another registration code and you will receive another one for no fee.