The "Tables" subsection presents you a very complex statistics regarding the two teams you picked.
Please note that it is possible to compare teams and brought this section to front also in the "Upcoming" and "Rating S" sections, by selecting a game then clicking the "Head to head" buttons.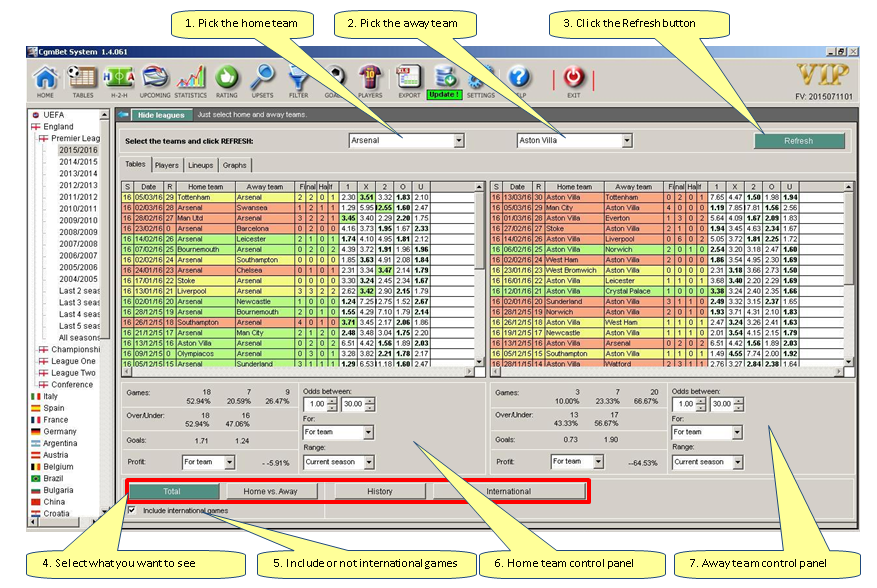 First, you have to select the teams using top buttons (1) and (2). The teams are sorted in alphabetic order. Then click the refresh button (3).
Two tables will show you all the games played this season by the selected teams: season, game's date, round, home team, away team, final score, half time score and the odds. The colours legend is the same as in Tables section. See here.
By default are presented all the games but using bottom buttons you can select to see:
Total - all the games no matter the venue.

Home vs Away - only the games played at home for the home team and only the games played away for the away team.

History - only the games played between the selected teams.

International - only the game played on international competitions.
Please note: by default, with any selection, are presented international games. You can change this by selecting or not the button "Include International games" (5)
Under each table are presented statistical information regarding selected teams. In the upper-left side are presented information about games played: Arsenal have this season 18 games won (52.94%), 7 draw (20.59%) and 9 lost (26.47%). Arsenal finished 18 games over 2.5 goals and 16 under 2.5 goals, scored 1.71 goals/game and received 1.24 goals/game.

If you want to see the possible profit if you had bet on the teams games, just use the filters on the right side of each container.
You will see the profit for selected team, against the team, over, under...
In the above image you see that betting for Arsenal, no matter the odds (odds between 1.00-30.00), current season you would have lost 5.91%
Example:
Let-s select Arsenal vs Aston Villa, only direct games and to see the profit if we had bet Over 2.5 each time.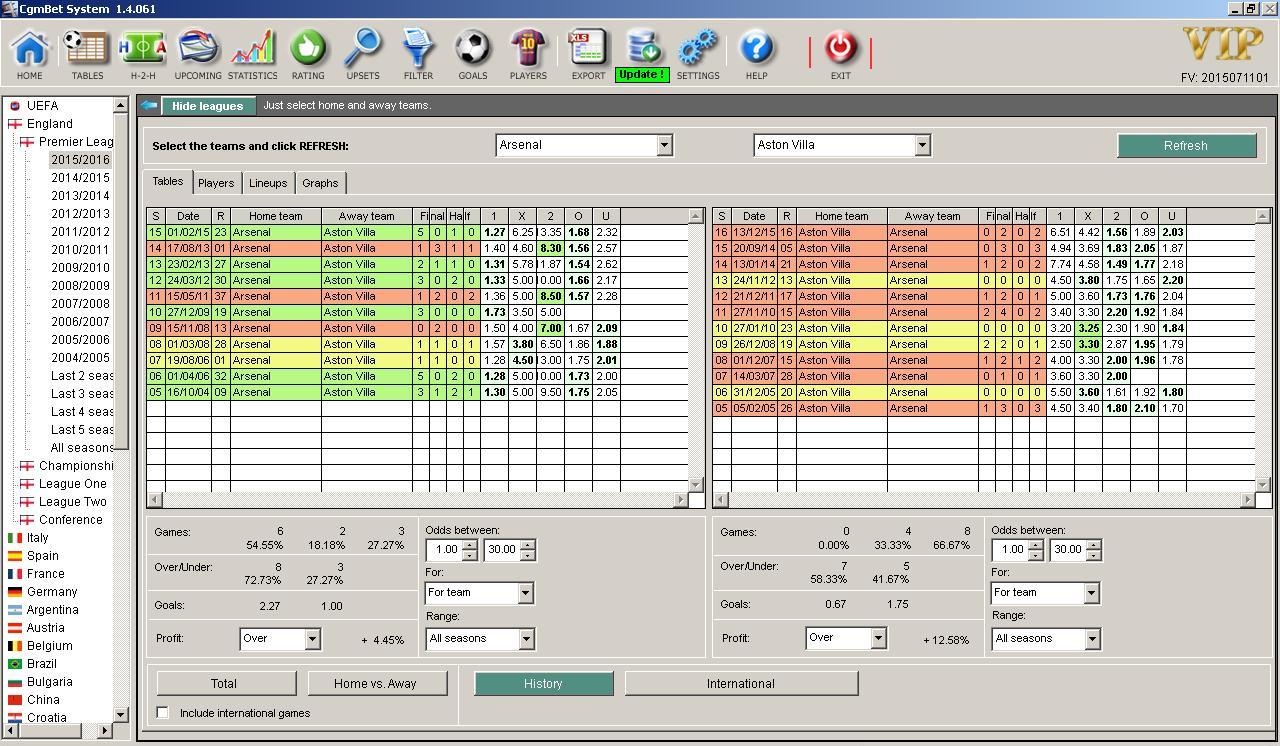 The profit would have been 4.45% for Arsenal - Aston Villa, respectively 12.58% for Aston Villa - Arsenal.
Please note that the profit is calculated based on the odds stored on my database.