The advanced statistics feature allows you to see more statistics about the games presented on the main table. In order to select advanced statistics just pick your choice from the button on the left side.
The advanced statistics column is not visible until you use the horizontal scroll bar.
The option you have to select are:
Full time correct score

Half time correct score - see example 1.

HT/FT results - to see the percent of the half time/full time results : 1/1, 1/X, 1/2 ......2/1,2/X,2/2

Head to head results FT/HT - see example 2

Head to head results Over/Under 2.5
Please be aware that some of the options can take few minutes to complete, depends on the number of games and/or the leagues.
Example 1. : is presented "half time correct score" statistics. Next to the half time correct score is presented the percent of the games ended with the same score within the same league, considering the range you set on the right side.
Green colour means that the number of games studied is enough to be considered a trust result, yellow colour means that the number is good but not enough and no colour means the number of games calculated is too low.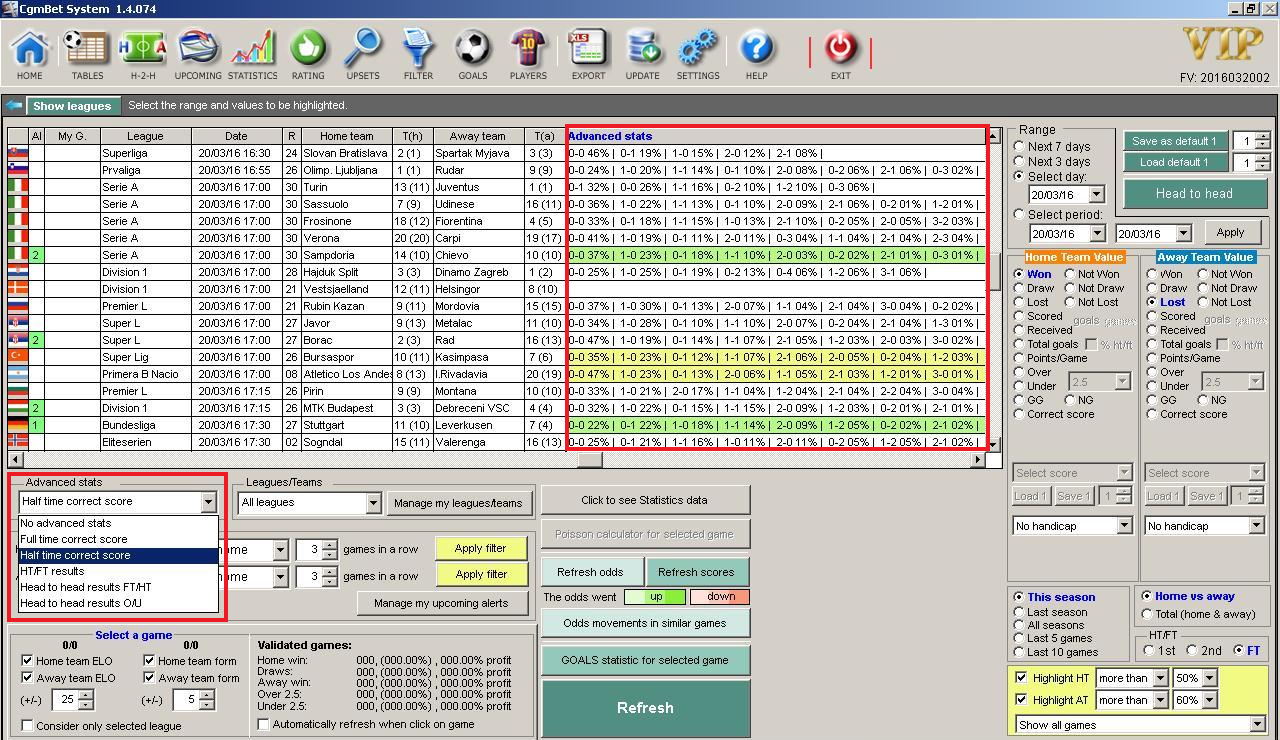 Example 2. : is presented "head to head results FT/HT " statistics.
If consider the selected game Mito H - Fagiano O the result is 2-3-1/1-5-0. That means that considering all games played at between selected teams (Mito H beeing the home team) 2 were won by Mito, 3 were draw and 1 was won by Fagiano. For the same games at half time only 1 was won by Mito and 5 were draw after the first 45 minutes.